Sustainability in Action: Array Technologies
Array Technologies is a market-leading manufacturer of utility-scale solar tracking systems. This technology enables solar panels to follow the sun throughout the day, significantly increasing the energy output of solar plants that provide power to thousands of customers. The company has helped more than 900 projects supply over 22,000 megawatts of energy globally throughout its +30-year history.
Oaktree's Power Opportunities strategy first invested in the company in 2016. The strategy targets companies that provide products and services used to maintain, upgrade, and expand power, utility, energy, water and wastewater infrastructure in North America and Europe. We were interested in Array because we believed that utility-scale solar power generation was poised for significant growth, both domestically and internationally, as this source of clean energy was becoming increasingly cost-competitive with other power sources. Additionally, trackers – like those produced by Array – were deepening their market penetration because projects employing them could produce energy more efficiently than those continuing to use traditional, fixed-tilt systems.
Array had a long track record of successful installations, and we believed its systems offered significant advantages over competing products. For example, the company designed its equipment with fewer motors and components than similar systems, and its technology could be used in a variety of terrains. Array's systems therefore offered greater flexibility and better reliability than many of its competitors' products, with lower installation and maintenance costs.
Annual global tracker installations and Array's sales volumes increased substantially between 2015 and 2017, but the company also experienced growing pains. First, the average selling price of Array's systems fell by almost 50% in the four years to 2019 due to intense price competition. Also, the company encountered numerous supply-chain and logistical problems as it struggled to keep up with rapidly escalating production demands. Adding to these difficulties, in 2018 the U.S. government imposed a 25% tariff on steel, one of the company's largest input costs.
U.S. solar projects equipped with Array trackers annually offset an estimated:1
17 million
metric tons of carbon dioxide
1,180
metric tons of particulate matter
13 trillion
gallons of water withdrawls
The Power Opportunities group used its extensive experience in this industry to help Array overcome these challenges and emerge better positioned for long-term growth. We directed or led a number of important initiatives, working closely with the company's management team.
We helped Array reduce its unit costs by over 30% through improvements in product design and logistics. This allowed the company to refocus on its mission: improving access to clean, reliable solar-powered energy.

One of our former colleagues served as a senior advisor to Array. He recruited a new full-time chief executive officer in 2019 who had extensive experience in international sales, manufacturing and supply-chain operations.

We helped select new management and operational staff and increased the size and breadth of the sales team, which further professionalized the business. This enabled the company to capitalize on rising demand for trackers, particularly from international customers.

We provided Array with much-needed liquidity by making an additional investment and negotiating with the company's founder to inject more capital.

We supported the company as it completed a complex enterprise software upgrade, which improved operational efficiency.

We hosted annual summits for Power Opportunities portfolio companies in 2016 and 2018 at which executives, including Array's management, heard from industry experts and discussed best practices involving a range of topics, including worker safety, employee compensation and key performance metrics.

In 2020, we organized a series of webcasts to help Array and other portfolio companies address pandemic-related challenges. The series featured subject-matter experts from PwC, Marsh, Aon Risk Solutions and CEBAT (another Power Opportunities portfolio company, based in Italy, whose operations were affected early in the crisis).
Our efforts to extend Array's ability to supply the renewable energy industry helped upgrade the company's operations and boost its earnings and cash-flow generation, dramatically improving gross and operating margins. The pandemic disrupted the company's activities and delayed certain projects, but Array weathered these difficulties. And it fully paid off its debt by the end of 2020.
The company has helped more than 900 projects supply over 22,000 megawatts of energy during its history.
Importantly, the company benefited significantly from industry tailwinds that were the basis of our initial investment. Worldwide utility-scale solar capacity increased at a compound annual rate of 25% between 2018 and 2021, and pressure on the average sales price of trackers eased. Meanwhile, Array's technology remained the preferred choice of many in the industry.
This positive backdrop and Array's impressive financial results enabled the company to complete a highly successful initial public offering in October 2020 – the largest renewable energy IPO in U.S. history at that time. Our investment in the company has now been fully realized, but we're pleased to watch as Array continues to help owners of utility-scale solar plants produce affordable, clean energy for customers around the globe.
Examples of Array's Global Impact
Supplied its technology to the Americas' largest bifacial solar plant. Households will avoid emitting over 800,000 million tons of carbon dioxide each year on average by using the energy provided by this plant instead of power generated by traditional sources.4
Equipped one of the biggest photovoltaic solar plants in Australia, which provides power to more than 115,000 Australian homes each year.5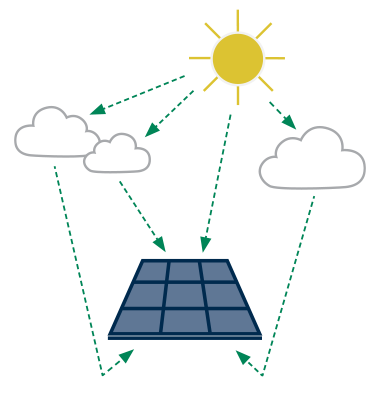 Provided technology to six solar projects that support the energy needs of around 238,000 homes across Queensland and Victoria, Australia.6
Completed installations in Texas that help supply power to approximately 15,000 households.7
EndNotes
1 Based on trackers shipped as of June 30, 2020.
2 Array Technologies estimated the annual offsets based on the avoided rates equivalent to 18 GW of solar PV projects. Array stated that (1) the estimates for carbon dioxide and particulate matter are calculated using national emission factors from the EPA AVERT 2018 calculator; (2) the water withdrawals estimate is based on the weighted average of median natural gas and coal withdrawals using EIA 2019 data and "Operational Water Consumption and Withdrawal Factors for Electricity Generating Technologies: A Review of Existing Literature," by Jordan Macknick et al., in Environmental Research Letters, Vol. 7, No. 4, December 20, 2012; and (3) the calculations assume an annual average capacity factor of 20.7% (provided by EPA AVERT) and a DC to AC conversion factor of 1.25.
3 Handbook of Water Use and Conservation by Amy Vickers.
4 Based on Array's announcement in 2019; the calculations are based on the impact the solar plant will have once fully operational.
5 Based on Array's announcement in 2019.
6 Based on Array's announcement in 2017 that six Australian solar projects were adopting its technology.
7 Based on Array's announcement in 2017 that it had completed an 102 MW installation.
Notes and Disclaimers
Unless otherwise indicated, investments discussed in the Sustainability in Action series are not, and were not, part of an ESG- or sustainability-focused fund. The investments discussed are the most substantial fully exited investments in a company that Oaktree has determined is representative of a Bloomberg-defined ESG theme based on the company's industry and/or business practices. The meaning of "substantial" may vary between product types and categories, but could include the largest, first, most recently exited or only fully exited investment in a specific theme. Array Technologies is the most substantial fully exited investment in a renewable energy equipment company, representing the climate change theme.
This document and the information contained herein are for educational and informational purposes only and do not constitute, and should not be construed as, an offer to sell, or a solicitation of an offer to buy, any securities or related financial instruments. Responses to any inquiry that may involve the rendering of personalized investment advice or effecting or attempting to effect transactions in securities will not be made absent compliance with applicable laws or regulations (including broker dealer, investment adviser or applicable agent or representative registration requirements), or applicable exemptions or exclusions therefrom.
This document, including the information contained herein may not be copied, reproduced, republished, posted, transmitted, distributed, disseminated or disclosed, in whole or in part, to any other person in any way without the prior written consent of Oaktree Capital Management, L.P. (together with its affiliates, "Oaktree"). By accepting this document, you agree that you will comply with these restrictions and acknowledge that your compliance is a material inducement to Oaktree providing this document to you.
This document contains information and views as of the date indicated and such information and views are subject to change without notice. Oaktree has no duty or obligation to update the information contained herein. Further, Oaktree makes no representation, and it should not be assumed, that past investment performance is an indication of future results. Moreover, wherever there is the potential for profit there is also the possibility of loss.
Certain information contained herein concerning economic trends and performance is based on or derived from information provided by independent third-party sources. Oaktree believes that such information is accurate and that the sources from which it has been obtained are reliable; however, it cannot guarantee the accuracy of such information and has not independently verified the accuracy or completeness of such information or the assumptions on which such information is based. Moreover, independent third-party sources cited in these materials are not making any representations or warranties regarding any information attributed to them and shall have no liability in connection with the use of such information in these materials.
© 2021 Oaktree Capital Management, L.P.